We're really excited about the various events we've got coming up in the run up to Christmas this year.Please find below details of the events which are coming up next month!



Christmas Carols - Sunday 10th December - 6pm
Join us at 6pm for Carols (no morning meeting), at QUAD, as we celebrate Christmas together. There will be traditional carols, a retelling of the Christmas story, followed by mince pies and mulled wine. We'd love to invite you to join us even if you've never been to Jubilee before and look forward to you being with us!

We're excited that we'll also be joined by the award winning: St Wystan's Staff & Parent Choir for the evening!

We will once again be taking an offering for the work of "Faith Hope and Enterprise", a registered charity which provides supported housing in Derby and Derbyshire for some of the most marginalised members of society. Find out more here: The Faith Hope and Enterprise Company Ltd.

This event is in place of our usual morning celebration!


St Wystan's Staff and Parent Choir
Flyers for this and all our Christmas events will be available on Sundays so that you can invite friends, family and collegues. Please take some extras and post them through doors in your area and help us get the word out!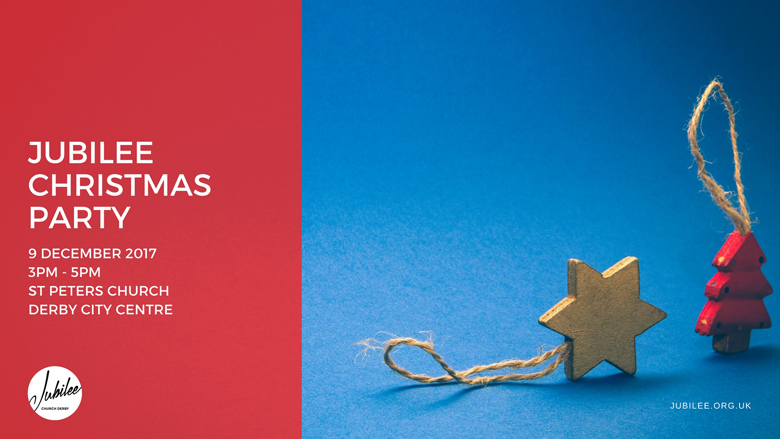 We are also really looking forward to our annual Christmas Party which this year will be on Saturday 9th December 2017 at St Peters Church in Derby City Centre between 3pm & 5.30pm. This is a non-ticketed event but please liase with your LifeGroup leaders who will be helping us gauge numbers and planning games / activities for us to do together. This is always a great family-friendly event open to all at Jubilee!
Christmas Dates For The Diary

Christmas Party - Saturday 9th December - 3pm
Christmas Party for all at St Peter's - City Centre
Christmas Carols - Sunday 10th December - 6pm
Evening Carol service, at QUAD
Family Christmas - Sunday 17th December - 10am
Join us for our all age Christmas Celebration (inc. puppets), at QUAD
Acoustic Christmas Eve Service - Sunday 24th December - 10am
Join us for an unplugged Christmas Eve Celebration, at QUAD

No Meeting - Sunday 31st December
No Sunday meeting - enjoy your break!
Sunday 7th January 2018
Join us for our first Sunday Celebration of 2018, at QUAD

Read more on our events page!